HVAC and Equipment Controls
HVAC and Equipment Controls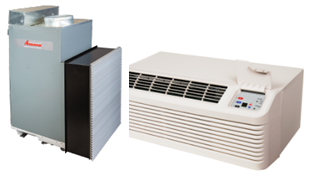 Amana® – Eden Controls
Wireless Energy Management System for PTACs
The Eden system is the first of its kind, offering hotels, nursing homes, schools and any building with PTACs substantial benefits including reduced energy consumption, improved unit maintenance and easy installation.
Amana brand Eden PTACs can reduce energy costs by up to 35%!
The Eden system includes an in-room wireless thermostat and occupancy sensor developed in conjunction with Everex Communications. The in-room PTAC and peripherals are connected with the push of a button. There is no wiring to run or need for an electrician. To complete the system, all of the PTACs in a building can be wirelessly connected to a single hardware interface–the DL01E controller. Using the Eden Internet user interface, each PTAC can be viewed from a computer to check unit performance, temperature, unit settings, and check for maintenance issues.